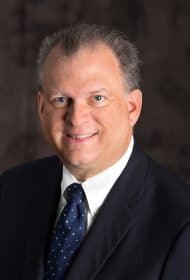 Education
B.S. Accountancy, University of Illinois
J.D. (Highest Honors), IIT Chicago-Kent College of Law
Other
CPA certificate, Illinois
Don Kalfen leads Meridian's Technical Team and has more than 20 years of consulting experience in executive and director compensation and related issues. He advises clients on a broad range of technical, regulatory, and corporate governance matters impacting the design, implementation, and administration of executive compensation arrangements. These include accounting standards, tax rules, proxy disclosure requirements, securities exchange listing standards, and proxy voting guidelines of major institutional shareholders and their advisers. Don is responsible for publishing the firm's periodic client newsletter and studies on executive severance.
Don also has assisted clients in designing compensation arrangements including, short- and long-term incentive plans, severance arrangements, change-in-control agreements, deferred compensation plans, supplemental retirement plans, and employment agreements. Don's design experience includes assisting clients in developing their pay philosophy and compensation peer group as well as conducting market studies of executive compensation practices.
Prior to joining Meridian, Don spent four years consulting at Hewitt Associates where he was a Principal and member of the Executive Compensation Leadership Team, and led the practice's Technical Team. Prior to Hewitt, Don spent 15 years as a member of the human resources consulting practices at Ernst & Young and PricewaterhouseCoopers. While at Ernst & Young, he served as partner-in-charge of the firm's Chicago office HR consulting practice. Prior to joining Ernst & Young, Don was an employee benefits attorney in private practice with Keck, Mahin & Cate and Kirkland & Ellis.