Jim Wolf | Managing Partner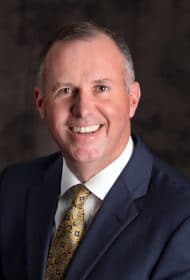 Education
B.S. Economics and German, Williams College
M.B.A., The Wharton School of Business
Other
Certified Employee Benefits Specialist
Jim Wolf is a Managing Partner at Meridian and has over twenty-five years of experience providing consulting services to a wide variety of organizations in the areas of executive compensation, governance, performance-based pay and benefits. Jim consults directly to the compensation committee and board of directors of his client companies.
Meridian is the leading compensation advisor in the oil and gas industry. Jim leads a team of Texas-based consultants serving companies in the upstream, midstream, transportation, and distribution segments of oil and gas. Jim has served a variety of industries, working with public and private organizations ranging from Fortune 100 companies to recent startups. Jim has additional experience in the engineering and construction, transportation, telecommunications, and manufacturing industries.
Jim speaks frequently on compensation practices and governance strategies, including energy industry compensation and the alignment of compensation with performance in commodity-based businesses.
Jim spent eighteen years with Hewitt Associates in a variety of consulting and leadership roles, most recently as the North America Practice Leader for Executive Compensation and Corporate Governance Consulting. Jim began his career working in employee benefits with Aetna Life & Casualty.