Michael Meyer | Consultant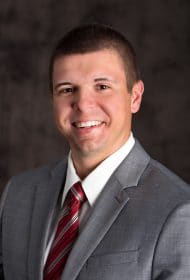 Education
B.S. Finance and Marketing, University of Wisconsin-Madison
Mike joined Meridian as a consultant in 2015 and is located in the Lake Forest office. He currently consults on a broad range of executive compensation matters including compensation strategies and pay philosophies, executive and director compensation benchmarking, short-term and long-term incentive plan designs, peer group analyses, realized and realizable pay analyses, ISS pay-for-performance modeling and equity dilution analyses.
Mike is part of two firm-wide teams specializing in financial services and valuation. The financial services team focuses on compensation and governance in the banking industry. The valuation team performs accounting valuation models for various equity incentives.
Mike began his career with Meridian after completing the Meridian Internship Program in the summer of 2014. Prior to joining Meridian, Mike had experience as an Insurance Agent with Northwestern Mutual where he conducted planning for a successful financial future.