Ron Rosenthal | Lead Consultant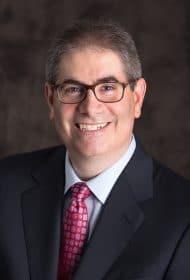 Education
B.B.A., University of Michigan
Ron joined Meridian as a Lead Consultant in 2016. Ron has over 20 years of experience advising compensation committees and senior management of publicly traded and privately held companies on a broad range of executive compensation matters.
Ron's experience includes advising companies on the development of a compensation philosophy, peer group development, competitive pay assessments, short-term and long-term incentive plan design, proxy advisory firms' policies on executive compensation, share authorizations for equity-based compensation plans, director compensation program design and transaction-related compensation matters.
Prior to joining Meridian, Ron was a senior manager with Deloitte Consulting's Human Capital Practice for 14 years, advising companies on executive compensation matters. Ron also worked for 8 years in Andersen's Human Capital Practice.
Ron is a frequent speaker on executive compensation matters and has authored articles and newsletters on hot topics in executive compensation.