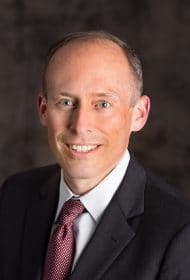 Education
B.A. Economics, Hope College
M.B.A. Finance, DePaul University
Ryan Harvey has been consulting in executive and director compensation since 1996. He works with boards of directors and management on all aspects of executive compensation design and analysis with extensive experience in long- and short-term incentive design, employment contracts, director compensation programs, change-in-control arrangements, and retention design.
Ryan acts as a national resource for the firm on executive compensation issues associated with initial public offerings (IPO), spin-offs, mergers and acquisitions, startups, and other corporate transactions. His clients include large companies in diverse industries including business services, construction and engineering, distribution, energy, financial services, food and beverage, medical technology, pharmaceuticals, media, manufacturing, and retailing. He also has extensive experience working with startups, venture capital, and private equity.
Ryan has published articles on topics including change-in-control severance design, IPO issues and HR issues during bankruptcy reorganization.
Prior to joining Meridian, Ryan spent 14 years consulting in executive compensation at Hewitt Associates where he was a Principal.