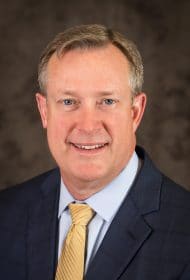 Education
B.S. Finance & Business Economics, University of Southern California
M.B.A. Finance, The Anderson Graduate School of Management at UCLA
Tom McNeill has over 25 years of consulting and corporate experience. He advises compensation committees and senior executives on a full range of executive and director compensation matters, including compensation benchmarking, incentive plan design, severance and change in control arrangements, and corporate governance. He has also advised clients on a number of significant corporate transactions, including mergers and acquisitions, IPOs and spin-offs. His consulting activities emphasize compensation strategy development and the alignment of pay and performance.
Tom has advised public and private companies in a broad range of industries and has specific industry expertise in oil and gas, energy services, and engineering and construction. Most of his client relationships are at the Compensation Committee level but involve regular interaction with company management.
Tom has additional experience working with clients on international compensation issues in the U.K., Europe, Latin America, Japan, Australia, Russia and the Middle East. He also has significant experience with financial modeling and analysis, and serves as a firm wide resource regarding the energy industry.
Prior to consulting, Tom worked at a global integrated oil and gas company, where he held roles in finance, strategic planning, operations analysis and executive compensation.