Virginia Rhodes | Lead Consultant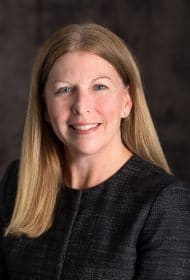 Education
B.S. Business Administration, University of North Carolina at Chapel Hill
M.B.A., Kenan-Flagler Business School at the University of North Carolina at Chapel Hill
Virginia Rhodes has over 19 years of executive compensation consulting experience. She consults in all areas of executive and board of director compensation, including total compensation benchmarking, short-term and long-term incentive plan design, pay-for-performance analyses, compensation risk assessments, and executive agreement review, including change-in-control and severance arrangements, design and implementation of tally sheets, creation of total compensation statements, and proxy drafting.
Virginia's clients include large companies in diverse industries including business services, energy and utilities, media, manufacturing, consumer products, insurance, paper and packaging, financial services, and retailing. Her client relationships are primarily with both Compensation Committees and Management, some solely with the Compensation Committee, and some solely with Management.
Prior to joining Meridian, Virginia spent six years with Hewitt Associates and six years with Towers Perrin, specializing in executive compensation consulting.