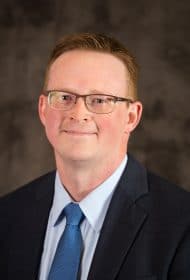 Education
B.S. Management summa cum laude, University of Alabama
M.B.A. Organizational Behavior, UCLA Anderson School of Management
Daniel Rodda consults with compensation committees and senior management on all aspects of executive and director compensation, developing customized compensation programs aligned with business strategies and the governance environment. His consulting work includes competitive assessments, incentive plan design, compensation governance, pay and performance alignment, compensation disclosures, shareholder engagement, accounting implications, employment agreements and severance arrangements. Daniel has assisted clients with their executive compensation programs for over a decade.
Daniel works with companies in a diverse range of industries including banking, business services, distributors, insurance, materials, media and retail.
He is a frequent speaker and writer on executive compensation trends and developments. He also helps lead Meridian's Financial Services team. Prior to joining Meridian, Daniel was a Principal in Mercer's executive compensation practice.
Recent Articles/Videos Featuring Daniel:
The Impact of COVID-19 on Executive Compensation Programs - https://www.meridiancp.com/the-impact-of-covid-19-on-executive-compensation-programs/
Determining Annual Incentive Pay in a Pandemic - https://www.meridiancp.com/determining-annual-incentive-pay-in-a-pandemic/
Bank Director Webinar: The Impact of COVID-19 on Executive Compensation Programs - https://www.meridiancp.com/bank-director-webinar-the-impact-of-covid-19-on-executive-compensation-programs/
Banking Industry Incentive Practices - https://www.meridiancp.com/banking-industry-incentive-practices/
Banking Industry Response to COVID-19 - https://www.meridiancp.com/banking-industry-response-to-covid-19/
Executive Compensation in the Banking Industry - https://www.meridiancp.com/executive-compensation-in-the-banking-industry-2/
Pay Trends in the Financial Services Industry - https://www.meridiancp.com/pay-trends-in-the-financial-services-industry/
Setting Goals to Incent High Performance - https://www.meridiancp.com/setting-goals-to-incent-high-performance/
Should Compensation Committees Seek CEO Input When Deciding CEO Pay? - https://www.meridiancp.com/compensation-committees-seek-ceo-input-deciding-ceo-pay/
Addressing Compensation Issues in M&A - https://www.meridiancp.com/addressing-compensation-issues-ma/