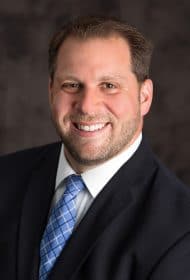 Education
B.S.B.A. Finance, Olin School of Business, Washington University
M.B.A. Finance and Human Resource Management, Olin School of Business, Washington University
M.S.F. Finance, University of Michigan
Jared has 15+ years of experience in executive compensation consulting. Prior to joining Meridian, Jared was with Mercer for eight years as a Consultant and Principal within the executive compensation practice. He has experience consulting in a broad range of executive compensation matters that include executive and director compensation benchmarking, compensation strategies and pay philosophies, long-term incentive plan design, short-term incentive plan design, executive supplemental benefits, severance benefits, and change-in-control benefits. Jared has a proven capacity to help solve executive compensation issues and manage complex projects.
Jared currently works with publicly traded and privately held companies across a wide range of industries including: advertising, automotive, banks and financial services, hotels and resorts, manufacturing, payment processing, REITs, restaurants, retail, and steel.
In 2018, Jared was a featured speaker at both the Equilar Summit and Corporate Board Member conference. He is a frequent speaker at NASPP and WorldatWork regional chapter meetings. He is a member of the Beta Gamma Sigma Honor Society as well as the Society of Human Resource Management (SHRM) and WorldatWork. He is also a Certified Executive Compensation Professional as designated by WorldatWork.
Recent Articles/Videos Featuring Jared:
Long-Term Incentives: Before, During and After COVID-19 - https://www.meridiancp.com/long-term-incentives-before-during-and-after-covid-19/
Planning CEO Transitions: Compensation Committee Best Practices - https://www.meridiancp.com/planning-ceo-transitions-compensation-committee-best-practices/