Jim Heim | Lead Consultant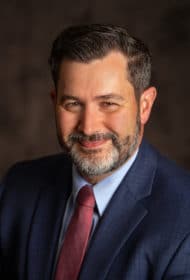 Education
B.A. Psychology, University of Kansas
MBA with a concentration in Human Resources Management, University of Kansas
Other
Certified Compensation Professional
Certified Equity Professional
Jim has been a trusted advisor to Boards and their senior management teams on all aspects of executive compensation and director compensation issues since 2004.  His clients range from Fortune 500 firms to pre-IPO start-ups and represent multiple industries, including technology, biotech, aerospace & defense and industrial manufacturing.  Specific areas of focus include pay governance, incentive plan design, pay-for-performance alignment, compensation benchmarking, proxy analysis and special compensation programs for IPO and M&A transactions.
In addition to his consulting experience, Jim has worked in the corporate human resources departments of EMC Corporation, The Gillette Company and One Beacon Insurance.
Jim regularly writes and presents on executive compensation topics for organizations such as the NACD, American College of Corporate Directors, and WorldatWork, and is also a former faculty member of WorldatWork, serving as course instructor for "Principles of Executive Rewards".
Recent Articles/Videos Featuring Jim:
Incorporating ESG Goals into Executive Compensation - https://www.meridiancp.com/incorporating-esg-goals-into-executive-compensation/
How and Why Pre-Commercial Biotech CEO Pay is Different Part 3 - https://www.meridiancp.com/how-and-why-pre-commercial-biotech-ceo-pay-is-different-3/
How and Why Pre-Commercial Biotech CEO Pay is Different Part 2 - https://www.meridiancp.com/how-and-why-pre-commercial-biotech-ceo-pay-is-different-2/
How and Why Pre-Commercial Biotech CEO Pay is Different Part 1 - https://www.meridiancp.com/how-and-why-pre-commercial-biotech-ceo-pay-is-different/
Boardroom Comp Under COVID-19 - https://www.meridiancp.com/boardroom-comp-under-covid-19/
Revisiting Board Pay in a Time of Crisis - https://www.meridiancp.com/revisiting-board-pay-in-a-time-of-crisis/
The $1 Salary: Lessons Learned - https://www.meridiancp.com/the-1-salary-lessons-learned/
Fostering Diversity in Board Pay Practices, Part 2 - https://www.meridiancp.com/fostering-diversity-in-board-pay-practices-part-two/
Fostering Diversity in Board Pay Practices, Part 1 - https://www.meridiancp.com/fostering-diversity-in-board-pay-practices-part-one/
Why Pre-IPO Peer Groups are (or at Least Should be) Different - https://www.meridiancp.com/why-pre-ipo-peer-groups-are-or-at-least-should-be-different/