Meridian's 2015 Trends and Developments in Executive Compensation Survey covers responses from 114 major companies across a diverse range of industries. This survey and its results are intended to provide an overview of the current landscape and direction in which companies are moving when it comes to executive compensation and corporate governance practices. Although the landscape is constantly shifting, there has been a noticeable calm in the tides of executive compensation due to strong shareholder support on Say on Pay and limited action from the regulatory bodies and proxy advisory firms (e.g., SEC, IRS, ISS, etc.).
Highlights and key findings of the survey include:
Pay for Performance
A majority of companies (57%) indicated that they recently evaluated the relationship between pay and performance. In doing so, most companies studied the relationship over at least a three-year period.
Say on Pay
Nearly three-quarters of companies indicated they engaged with their institutional shareholders in preparation for their 2015 Say on Pay vote.
2015 Merit Increase Budgets
Merit increases were modest for executives and non-executives (median of 3%), a trend that is consistent with recent years and a low inflation environment.
Annual Incentives
Sharing ratios are becoming an important factor in the annual goal-setting process as companies seek to understand the relationship between dollars delivered to executives and dollars remaining for shareholders.
Long-Term Incentives
Approximately 60% of companies responded that 2015 long-term incentive (LTI) grant values are about the same as 2014; only 6% of companies indicated that grant values decreased year over year. The impact of dramatic declines in oil prices on long-term incentive grant values has been modest thus far.
Background Information
Participating Organizations
The survey includes responses from 114 companies. These organizations are listed, by primary GICS sector, in the Appendix. Financial highlights for the participating organizations are presented in the table below.
| | | | | |
| --- | --- | --- | --- | --- |
| | FY 2014 Revenue($ Mn) | Market Value($ Mn) | Enterprise Value ($ Mn) | Number of Employees |
| 25th percentile | $2,046 | $2,120 | $3,046 | 3,700 |
| Median | $4,117 | $6,472 | $7,361 | 8,900 |
| 75th percentile | $10,014 | $22,901 | $28,220 | 21,000 |
Source: Standard & Poor's Compustat Database
Market value and enterprise value are as of December 31, 2014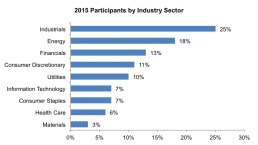 Performance Summary of Participants
| | | | | |
| --- | --- | --- | --- | --- |
| | 1-YearOperating Margin | 1-YearEPS Growth | 1-Year TSR | 3-Year TSR |
| 25th percentile | 7.4% | -16.2% | -7.5% | 9.4% |
| Median | 13.1% | 10.0% | 8.8% | 19.4% |
| 75th percentile | 22.5% | 40.4% | 20.5% | 28.5% |
Source: Standard & Poor's Compustat Database
Operating margin and EPS growth represent FY 2014 TSR as of December 31, 2014
Pay-for-Performance Comparisons
n 2015, 57% of responding companies indicated they have recently evaluated the relationship between pay and performance. A majority of companies compare pay and performance against a custom benchmarking group but an absolute comparison can also provide meaningful insight. Some use multiple approaches, which results in a sum over 100% in the table below.
| | | | | |
| --- | --- | --- | --- | --- |
| | Absolute Comparison | Relative to Benchmarking Peer Group | Relative to ISS Modeled Peer Group | Relative to Broad Index |
| Prevalence | 35% | 73% | 18% | 5% |
As illustrated below, the most common time frame over which to measure pay and performance was 3 years (63%), though 1-year periods were also common. These time frames coincide with the typical performance periods for short-term and long-term incentive plans.
| | | | | |
| --- | --- | --- | --- | --- |
| | 1-Year | 2-Year | 3-Year | 5-Year |
| Prevalence | 18% | 7% | 63% | 15% |
Of those companies conducting pay-for-performance analyses, most companies include salary, bonus and long-term incentives in their review. The most prevalent LTI valuation approach is to use the grant date value. However, a significant minority approach is to revalue at the end of the performance period, which arguably is a more accurate reflection of the value of earned compensation over the period. In Meridian's experience, most companies focus solely on the CEO since a similar story tends to be the case for the other executives as well.
Say on Pay
Companies have settled into the fifth year of Say on Pay and shareholder support of executive pay programs remains very high, most often with over 90% voting in favor of such proposals. Nonetheless, companies continue to engage with shareholders as well as seek other avenues to demonstrate alignment between executives and shareholders.
Steps Taken to Prepare for 2015 Say on Pay Vote
Despite consistently high levels of shareholder support on Say on Pay, shareholder engagement remains an important component of Say on Pay vote preparation. Companies are going to greater lengths to improve the readability of their Compensation Discussion and Analysis (CD&A) through executive summaries, the use of charts, graphs, color and new layouts. Additionally, some companies are including supplemental tables that include variations of compensation that go beyond the proxy disclosure requirements. However, we are not seeing wholesale changes to executive pay designs.
| | |
| --- | --- |
| | Prevalence |
| Engage institutional shareholders directly | 72% |
| Materially modifying disclosure and/or adding to the Compensation Discussion and Analysis | 51% |
| Changing some significant aspect of the executive compensation program in response to 2014 Say on Pay vote outcome | 19% |
| Ask proxy solicitor to help with major shareholder outreach | 18% |
Note: Total exceeds 100% as some companies use multiple approaches.
Steps Taken to Prepare for 2015 ISS Evaluation
Institutional Shareholder Services (ISS) continues to wield significant influence over Say on Pay vote results. Early returns from the 2015 proxy season indicate that an "Against" recommendation from ISS results in, on average, a 20% decrease in shareholder support, despite major institutions developing their own models. In light of this, approximately 50% of companies had an outside consultant replicate the ISS pay-for-performance analysis. ISS did not make any major changes to its three-part quantitative pay-for-performance test for the 2015 proxy season.
| | |
| --- | --- |
| | Prevalence |
| ISS tests modeled by outside consultant | 51% |
| Paid ISS fee for preliminary test results | 25% |
| Replicated ISS tests internally | 16% |
| Shareholder base does not follow ISS | 5% |
| ISS tests replicated by proxy solicitor | 2% |
| No specific work done | 23% |
Note: Total exceeds 100% as some companies use multiple approaches.
2015 Merit Increase Budgets
Merit Budget Increases for Executives
2015 merit budget increases for executives at most companies have remained relatively consistent for several years at approximately 3%, slightly above U.S. inflation rates; this continues a long-term trend of merit increases between 2.5% and 3.5%.
Merit Budget Increases for Salaried Non-Exempt Employees
Similar to recent trends for executives, approximately three-quarters of companies increased base salaries between 2.5% and 3.5% for salaried employees. Only 6% of responding companies increased salaries more than 4.0% for this group.
2015 Merit Budget Increase Range
Increase Range
Prevalence
Executives
Prevalence
Salaried Non-Exempt Employees
0% (no merit increase for 2015)
16%
3%
< 2.0%
2%
5%
2.0% – 2.49%
6%
13%
2.5% – 2.99%
12%
14%
3.0% – 3.49%
42%
50%
3.5% – 3.99%
4%
5%
4.0% – 4.49%
4%
5%
4.5% – 5%
3%
1%
> 5.0%
0%
0%
No Fixed Budget for 2015
11%
4%
Annual Incentives
2015 Annual Incentive Payouts for 2014 Performance
Approximately 68% of responding companies indicated that their annual incentive payouts for 2014 performance were at or above target.

Number of Annual Incentive Performance Metrics
Companies continue to use multiple financial performance metrics in determining annual incentive payouts.

Types of Corporate Performance Metrics for Annual Incentive Plans
The chart below details the prevalence of performance metrics used by companies for determining annual incentive payouts. Profit measures (e.g., operating income and EPS) remain the most common. Many metrics are industry specific, and some are unique to individual companies.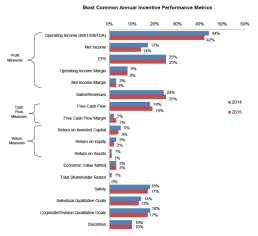 Primary Earnings Measures
A majority of companies (60%) set their annual incentive performance goals higher in 2015 than in 2014, indicating increased expectations as the broader economy continues its recovery. However, many companies in the energy sector set lower financial goals for 2015 given the recent collapse in oil prices.
2015 Primary Earnings-Related Goal Compared to 2014 Goals
Lower than 2014 goal
30%
Same as 2014 goal
10%
Higher than 2014 goal by 5% or less
25%
Higher than 2014 goal by more than 5%
35%
Most companies (56%) also set 2015 earnings goals above 2014's actual results.
2015 Primary Earnings-Related Goal Compared to 2014 Actual Results
All goals are at or above last year's actual results
56%
Threshold goal is below last year's actual results
18%
Target goal is below last year's actual results
25%
Maximum goal is below last year's actual results
1%
Goal-Setting Considerations
Annual budget/plan and historical results are the two most commonly reported factors evaluated when setting annual goals. Sharing ratios are also becoming an important factor considered by companies. Data on sharing ratios is limited and varies due to a number of company-specific factors, including eligibility levels for annual incentive plans. Nonetheless, an internal understanding of the relationship between the annual incentive plan and how dollars are allocated to executives and shareholders is an important aspect of the annual goal-setting process.
Factors Considered in Annual Goal-Setting Process
Year-end plan/budget
92%
Historical performance
49%
Historical industry/peer performance
34%
External guidance
33%
Analyst expectations
31%
Sharing ratio
13%
Long-Term Incentives
LTI Target Values
For a majority of companies, 2015 LTI grants were largely in line with grant sizes in 2014. Among the 33% of companies that increased LTI values, the average increase was approximately 10%.
 Two-thirds of companies set LTI grant sizes using a fixed dollar value approach compared to roughly 30% of companies that set LTI grant sizes based on a multiple of base salary (e.g., 150% of base salary). Only 5% of sampled companies determine annual LTI grant sizes using a fixed number of shares irrespective of the change in share price.
Key Factors for Determining LTI Grants
When determining LTI grants for senior-most executives, approximately 74% consider market data (e.g., proxy or survey data) as a primary factor, while internal equity and prior year grant value are also key additional factors.
Primary Factor
Additional Factor
Not a
Significant Factor
Competitive market data
74%
25%
1%
Internal equity (e.g., grouping by level)
35%
58%
7%
Individual performance
32%
49%
19%
Company performance
25%
44%
31%
Prior year grant size in dollars
17%
60%
23%
Share pool dilution
10%
25%
65%
Prior year grant size in number of shares
3%
18%
79%
 LTI Vehicles Used
Eighty-two percent (82%) of sampled companies use two or three LTI vehicles for senior executives. In Meridian's experiences, it is most common to grant just one vehicle below the senior executive level, most often restricted stock or restricted stock units (RSUs).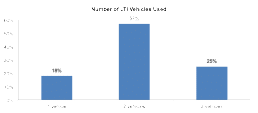 Performance-based stock/unit awards continue to be the most prevalent LTI vehicle. The table below details the prevalence and mix of each vehicle grouping. In the table below, the prevalence column represents the percentage of responding companies that grant a particular mix of LTI vehicles. The percentages listed under each vehicle heading represent the dollar weighting of that vehicle of the total LTI opportunity.
Prevalence and Weights of LTI Vehicles
 
 
 
Weight of Vehicle in Total LTI Value Opportunity
 
Prevalence
 
Performance Awards
Stock
Options
Restricted
Stock
Performance awards, stock options and
restricted stock
25%
43%
31%
26%
Performance awards and restricted stock
45%
60%
—
40%
Performance awards and stock options
8%
47%
53%
—
Stock options and restricted stock
4%
—
56%
44%
Performance awards only
11%
100%
—
—
Restricted stock only
5%
—
—
100%
Stock options only
2%
—
100%
—
Overall (averages)
100%
53%
16%
31%
Note: Performance awards include performance shares, performance units and long-term cash awards.
Long-Term Performance Period Length
A 3-year performance period continues to be the most prevalent approach in long-term performance plans. A majority of companies (70%) using a 3-year period set cumulative goals once at the beginning of the performance period. Companies that struggle with long-term goal setting may prefer to use a 3-year performance period in which goals are set annually, or use a relative TSR plan where the performance goals do not change from one year to the next.
A clear minority practice (13%) is the use of a 1- or 2-year performance period. Furthermore, approximately 60% of companies using a 1- or 2-year performance period also require additional vesting before the award is fully vested (typically 1 or 2 years of additional service).
Performance Period
Prevalence
1 year
9%
2 years; goals set at beginning of performance period
4%
3 years; goals set at beginning of performance period

Relative TSR plans using percentiles
Other measures, primarily financial

70%
40%30%
3 years; goals set annually
14%
Other
3%
Types of Corporate Performance Metrics for Long-Term Performance Plans
TSR remains the most common long-term performance plan metric due to its transparency, alignment with shareholders and because it eliminates the need to set goals each year. Of the companies using TSR, roughly 60% use one or more additional metrics in their long-term performance plan.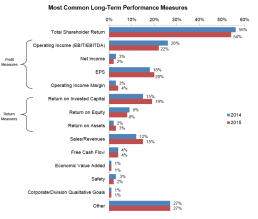 Perquisites and Other Executive Benefits
The decline in perquisites we have seen in recent years has leveled off in the broader marketplace. Pressure to eliminate perquisites has subsided as companies either yielded to external pressure or demonstrated a business case for existing perquisite programs. Often, legacy perquisite programs are continued for existing participants at the time of the change but decline as executives retire. Other times, companies eliminate perquisite programs altogether and/or convert the "lost value" into salary. Annual physicals and financial/tax planning remain the most common perquisites offered to executives. Consistent with prior years, using the company plane for personal use is most often allowed for the CEO only.
| | | | |
| --- | --- | --- | --- |
| Perquisite | CEO | At Least One Legacy NEO | New NEOs |
| Annual physical | 55% | 54% | 52% |
| Financial/tax planning | 45% | 47% | 43% |
| Company plane for personal use | 43% | 19% | 15% |
| Matching charitable gifts | 32% | 32% | 32% |
| Company car/lease/allowance | 24% | 23% | 18% |
| Club memberships | 18% | 14% | 9% |
| Excise tax gross-ups (in CIC) | 15% | 18% | 2% |
| Home security | 13% | 8% | 4% |
| Flexible perquisite allowance | 6% | 8% | 5% |
Please email Jerrold Rosema (jrosema@meridiancp.com) or call 847-235-3618 with any questions or comments.
 * * * * *
Appendix: Participating Companies
Consumer Discretionary
American Axle & Manufacturing Holdings, Inc.
Brown Shoe Company, Inc.
Dollar General Corporation
Gannett Co., Inc.
Garmin Ltd.
Harley-Davidson, Inc.
La Quinta Holdings Inc.
Leggett & Platt, Incorporated
Tenneco Inc.
The Finish Line, Inc.
Tower International, Inc.
Tribune Publishing Company
YUM! Brands, Inc.
Consumer Staples
Cargill, Incorporated
Coca-Cola Enterprises, Inc.
Energizer Holdings, Inc.
Kraft Foods Group, Inc.
Mead Johnson Nutrition Company
Mondelēz International, Inc.
Reynolds American Inc.
The Procter & Gamble Company
Energy
Alpha Natural Resources, Inc.
Approach Resources Inc.
Arch Coal, Inc.
California Resources Corporation
Cobalt International Energy, Inc.
Crestwood Equity Partners LP
Devon Energy Corporation
Eclipse Resources Corporation
Enlink Midstream Partners, LP
Enterprise Products Partners L.P.
FMC Technologies, Inc.
Newfield Exploration Company
ONEOK, Inc.
Phillips 66
QEP Resources, Inc.
SM Energy Company
Southwestern Energy Company
Tidewater Inc.
Ultra Petroleum Corp.
USD Group LLC
WPX Energy, Inc.
Financials
American Express Company
Bank of America Corporation
BlueCross BlueShield of South Carolina
CBOE Holdings, Inc.
CME Group Inc.
Discover Financial Services
Eastern Bank
Genworth Financial, Inc.
MetLife, Inc.
Prudential Financial, Inc.
Ramco Gershenson Properties Trust
State Street Corporation
The PNC Financial Services Group, Inc.
TransUnion LLC
XL Group plc
Health Care
Abbott Laboratories
Aetna Inc.
Halyard Health, Inc.
Hollister Incorporated
Laboratory Corporation of American Holdings
Nuvasive, Inc.
Perrigo Company plc
Industrials
Allegion Public Limited Company
ArcBest Corporation
Avis Budget Group, Inc.
Barnes Group Inc.
BlueLinx Holdings Inc.
Brady Corporation
Delta Air Lines, Inc.
Dover Corporation
Eaton Corporation plc
Equifax Inc.
Fortune Brands Home & Security, Inc.
Franklin Electric Co., Inc.
Herman Miller, Inc.
IHS Inc.
John Bean Technologies Corporation
KBR, Inc.
Milliken & Company
MRC Global Inc.
Mueller Water Products, Inc.
Norfolk Southern Corporation
Quad/Graphics, Inc.
The Boeing Company
The Timken Company
TriMas Corporation
Trinity Industries, Inc.
United Stationers Inc.
USG Corporation
Veritiv Corporation
Information Technology
Akamai Technologies, Inc.
Alliance Data Systems Corporation
Avnet, Inc.
Fiserv, Inc.
Global Payments Inc.
Hewlett-Packard Company
MasterCard Incorporated
YP LLC
Materials
Domtar Corporation
FMC Corporation
Graphic Packaging Holding Company
Utilities
Ameren Corporation
American Electric Power Company, Inc.
Exelon Corporation
FirstEnergy Corp.
National Fuel Gas Company
ONE Gas, Inc.
Questar Corporation
The AES Corporation
Westar Energy
WGL Holdings, Inc.
Xcel Energy Inc.