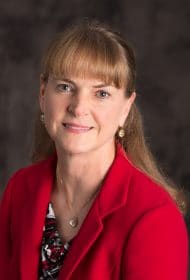 Education
B.S. Marketing, Oklahoma State University
M.B.A., Harvard Graduate School of Business
Annette Leckie has been consulting in the executive compensation field for over 25 years. Annette advises compensation committees and consults with senior executives on the full range of executive and director compensation issues, including both pay levels and the design of cash and equity incentives, supplemental benefits, and perquisites. She specializes in pay-for-performance linkages, corporate governance developments, disclosure, executive contracts, retention, change-in-control arrangements, risk analysis, and the technical aspects of executive compensation.
Annette's clients include large and mid-cap companies in diverse industries including financial services, business and data services, manufacturing, distribution, telephony, biotech, healthcare, and retailing. Her client relationships are primarily with both Compensation Committees and Management, generally with a direct reporting relationship to the Compensation Committee.
Annette is a frequent speaker on executive compensation topics, a member of the Compensation Committee Leadership Network, and contributor to Corporate Board Member. She currently serves on Meridian's Executive Committee.
Prior to joining Meridian, Annette spent 22 years at Hewitt Associates in executive compensation and was a Principal in the firm.