Linda Steffen | Lead Consultant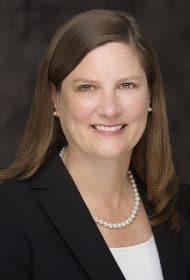 Education
B.S. Finance and Economics, Magna Cum Laude, Miami University
M.B.A. with Honors, The University of Chicago
Linda Steffen has over 20 years of experience providing compensation and financial performance advice to boards of directors and top executives. Linda focuses on designing programs that align compensation with business strategy and value creation for shareholders. Linda also helps oversee our services on the west coast from Meridian's Los Angeles area office.
She addresses the full spectrum of executive and corporate governance issues, including: compensation strategies, annual and long-term incentive design, executive and director compensation benchmarking, severance and change-in-control benefits, proxy disclosure, proxy advisor perspectives, goal setting and managing successful Say on Pay vote outcomes. In addition, Linda consults on a variety of corporate transactions, including: acquisitions, mergers, spins, separations, IPOs and going-private.
Linda has extensive experience across multiple industries and businesses with unique operating and financial situations. She has significant current experience consulting with recently public companies and companies in other transitional phases.
Linda is a recognized thought leader in the areas of performance measures, incentive design and the compensation risk/return proposition, having spoken on these topics at annual conferences held by NACD, GEO, NASPP, NCEO, World at Work and The Conference Board.
Prior to joining Meridian, Linda held senior consulting roles with Farient Advisors, Compensia, Towers Watson (formerly Watson Wyatt) and Deloitte. Linda also headed the compensation group at Amazon.com. Linda began her career as a corporate banker in Chicago.