Meridian Compensation Partners' annual analysis of outside director compensation among S&P/TSX 60 index companies found that average total compensation for directors increased by +2.1% last year.
The proportion of total compensation delivered in equity has increased to 47%, up from 43% the year before. We anticipate that this trend will continue in Canada until equity comprises one-half or more of total director compensation as is the case currently among larger public companies in the U.S.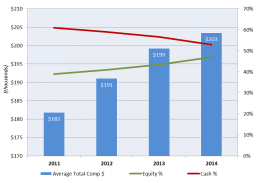 Components of Director Pay
Companies are finetuning specific components of director pay packages, rather than overhauling or redesigning entire compensation programs. However, some companies are moving away from a "pay for attendance" meeting fee model to an all-inclusive annual retainer (i.e., eliminating meeting fees in favour of a "fixed fee" approach for service on the board and/or committees). This aligns better with the changing role of directors, i.e., more reflective of the continuous nature of the commitment. The risk, responsibility and time commitment required of directors has increased dramatically in recent years. Significant preparation for and attendance at meetings has become effectively mandatory and directors are expected to be engaged with company issues year-round.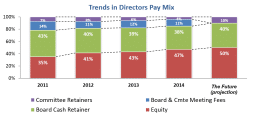 Trends for 2014
We observed the following trends:
Committee chair premiums continue to rise, and the gap in premiums paid between audit and compensation committee leadership continues to narrow. Audit chair retainers increased an average of +2% this past year, while compensation chair retainers increased by +5%
Deferred Share Units (DSUs) are the most commonly employed equity vehicle for director compensation among larger public companies, used by the vast majority of the S&P/TSX 60
The median value of share ownership requirements increased to about $457,000, up from $420,000, while the median multiple remained at 3× annual retainer. Prescribed multiples range from 2× to 10×.
The prevalence of board meeting fees continues to decline year over year. However, the pace of change remains slow, with 65% of S&P/TSX 60 companies still paying per- meeting fees this past year, down from 67% the year before, and a fall of only 8 percentage points since 2011. This differs notably from the U.S. and U.K., which have experienced a more pronounced shift, and now have only a small minority of companies paying meeting fees.
Meridian comment: We expect the pace of change to an all-inclusive retainer to accelerate in Canada over the next two years.
Simplified Fee Approach
Potential considerations for adopting an all-inclusive retainer include:


Canada vs. The United States—Pay and Governance Trends
Meridian compared outside director compensation practices at the S&P/TSX 60 index companies with 227 comparably sized U.S. companies (based on revenue and market cap1). Canadian directors' pay is still 20% below the pay of U.S. counterparts: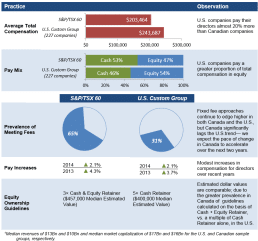 * * * * *
This Client Update is prepared by Meridian Compensation Partners. Questions regarding this Client Update or executive compensation issues may be directed to:
This report is a publication of Meridian Compensation Partners Inc. It provides general information for reference purposes only and should not be construed as legal or accounting advice or a legal or accounting opinion on any specific fact or circumstances. The information provided herein should be reviewed with appropriate advisors concerning your own situation and issues.