Quinn Gooch | Senior Consultant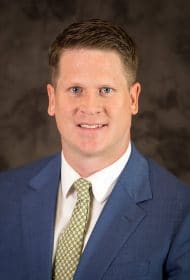 Education
B.S., Urban and Rural Environmental Planning, Brigham Young University
MBA, Texas Tech University
Quinn Gooch focuses on solving organization and people related concerns. In his current role, he has been focused on leading project teams and Boards through a variety of engagements including: board-level executive compensation engagements, compensation benchmarking analyses, incentive plan design, structure evaluation and redesign, and employee performance, recruitment, and retention.
Quinn's expertise includes competitive analysis of Board, executive, and broad-based compensation. He has led project teams through the short- and long-term incentive design process and provided background and expertise when structuring market comparator groups, benchmarking pay levels, designing market and strategic aligned incentive plans and providing insight into other key HR processes.
Prior to joining Meridian, Quinn spent several years at Ernst & Young, Korn Ferry Hay Group, and Alvarez & Marsal specializing in compensation consulting for Senior Executives and the Board.
Recent Articles/Videos Featuring Quinn:
Embrace the Use of Discretion in This New Era - https://www.meridiancp.com/embrace-the-use-of-discretion-in-this-new-era/
Announced Retail Executive and Outside Director Pay Reductions - https://www.meridiancp.com/announced-retail-executive-and-outside-director-pay-reductions/
Retail on the Ropes, But Punching Back - https://www.meridiancp.com/retail-on-the-ropes-but-punching-back/
Senior Executive Incentive Design Practices Study: Retail, Consumer Durables and Restaurants - https://www.meridiancp.com/senior-executive-incentive-design-practices-study-retail-consumer-durables-and-restaurants/