Tony Meyer | Senior Consultant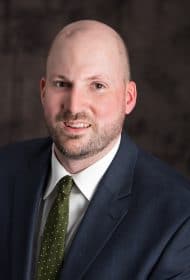 Education
B.S. in Accountancy, University of Notre Dame
M.S.A., University of Notre Dame
J.D., Marquette University Law School
M.B.A., Marquette University Graduate School of Management
Other
CPA certificate, Wisconsin
Tony Meyer is a consultant specializing in executive compensation at Meridian Compensation Partners, LLC. He has 7 years of experience working with compensation committees and management on a broad range of executive compensation issues, including philosophy and strategy, short- and long-term incentive design, pay-for-performance objectives and goal-setting, corporate governance practices, employment contracts, executive/board of director compensation benchmarking, retirement and deferral programs, change-in-control and severance provisions, IRC Section 280G calculations and the technical aspects of executive compensation. Prior to joining Meridian, Tony worked as a public accountant. He audited and gave tax assistance to clients in various industries.
He has worked with both public and private companies from a broad range of industries, including consumer goods, energy, healthcare, financial services, industrial and materials. These companies also vary in size, including large, small and mid-cap entities.
Tony has published articles and spoken on various executive compensation topics. Tony is an attorney and a Certified Public Accountant. He is also a Certified Executive Compensation Professional as designated by WorldatWork.
Recent Articles/Videos Featuring Tony:
2019 Executive Compensation Trends and Developments - https://www.meridiancp.com/2019-executive-compensation-trends-and-developments/
The Demise of TSR as the Primary Executive Pay Performance Measure - https://www.meridiancp.com/the-demise-of-tsr-as-the-primary-executive-pay-performance-measure/
2018 Trends and Developments in Executive Compensation - https://www.meridiancp.com/2018-trends-developments-executive-compensation/