This is a question we hear frequently this time of year — and now that many of the 2013 proxy statements have been filed, we thought we'd share our insights on CEO bonus payouts.
We focused on S&P 500 CEOs from the different energy industry segments and discovered CEO bonuses varied significantly—by individual and by industry segment
Refining & Marketing had a strong year with an average 100% total shareholder return (TSR). Bonuses paid reflected this performance.
Conversely, Integrated and Equipment & Services companies averaged negative TSR and paid bonuses below targeted level.
E&P and Storage & Transportation companies ranked somewhere in the middle, but with different results. Storage & Transportation delivered bonuses that averaged slightly above target. E&P companies paid 131% of target despite averaging single digit shareholder returns. However, we observed an overall lower level of payout among E&P companies than in recent years and a wider range above and below target level.
The graph depicts average bonus payout against TSR, a commonly used metric for ISS and others to measure performance.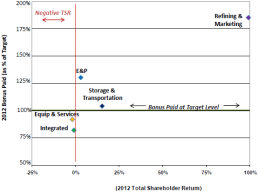 The table below summarizes the average and range of bonus outcomes by industry segment.
Energy Industry Segments
Range of Bonus Payouts as % of Target
Average Bonus
Average One Year TSR
Low
High
E&P
0%
250%
131%
3%
Integrated
0%
157%
82%
-1%
Storage & Transportation
65%
139%
104%
15%
Refining & Marketing
166%
200%
185%
100%
Equipment & Services
0%
135%
92%
-2%
Meridian Comment
Reviewed 2013 proxy statements filed as of 4/24/2013. Energy industry breakout based on S&P 500 companies' eight digit GICS code (when statistically necessary, included additional companies from the Russell 3000). Only CEOs with disclosed target bonus opportunity included in analysis. Data source for total shareholder return: Standard & Poor's Research Insight