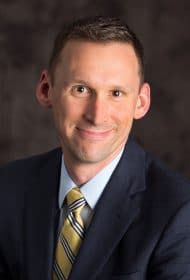 Education
B.S. Economics Cum Laude, Texas A&M University
M.B.A. Finance with Honors, C.T. Bauer College of Business, University of Houston
Chris has consulted on executive and director compensation since 1999. He consults with boards of directors and management on areas such as incentive design, linking pay with performance, compensation committee process and governance, severance and employment contracts, technical issues, compensation disclosure, and benchmarking analysis.
Chris's industry experience includes oil and gas, utility and power, manufacturing, distribution and logistics, technology, and information services, at publicly and privately held organizations of all sizes. Chris also leads Meridian's equity accounting valuation group and is a firm-wide resource on accounting for equity incentives.
Chris has written articles for WorldatWork Journal and the National Association of Corporate Director's Director Advisory Magazine. He also oversees Meridian's Energy Insights content, featuring Meridian's energy-specific commentary on compensation and governance issues.
Prior to joining Meridian, Chris spent 11 years at Hewitt Associates primarily focused on executive compensation.