How and Why Pre-Commercial Biotech CEO Pay is Different – Part Two: Founders vs. Non-Founders
In this four-part series, we examine the current state of pre-commercial biotech CEO pay, how it is tailored to the sector, and what drives differences between companies. We will explore:
Part One: Tailoring Pay to the Business
Part Two: Founders vs. Non-Founders
Part Three: East Coast vs. West Coast
Part Four: Drivers of Say-on-Pay Results
We encourage you to review Part One of our series for extensive observations and commentary relating to the pre-commercial biotech business model and how the typical CEO pay program within the sector is tailored to that model—but not necessarily aligned with Proxy Advisory Firm ("PAF") preferred practices.
In Part Two, we take a deeper dive to examine whether founder-led companies within the sector demonstrate distinct CEO compensation programs. Founder CEOs are common among pre-commercial small cap biotechnology companies, and led one-third of the 18 benchmark companies in our study.
Across multiple sectors, the presence of a founder CEO often provides for:
• Concentrated insider ownership, which in turn:
— Mitigates some risk of short-termism in strategic planning
— Insulates companies from some of the influence of PAF's on proxy voting, including Say-on- Pay ("SOP")
• Relatively stable pay programs over time, with longer-term performance horizons embedded in incentive designs
There are ongoing debates relating to whether founder-led organizations ultimately under- or over-perform relative to other companies. To be clear, the focus of our study is on how compensation programs for founders do or do not differ from other pre-commercial biotech companies; we have not explored performance implications in this series.
CEO Pay Program Design: Key Takeaways
Our research determined that founder-led pre-commercial biotech companies compare to broader sector benchmarks and PAF preferred practices as follows: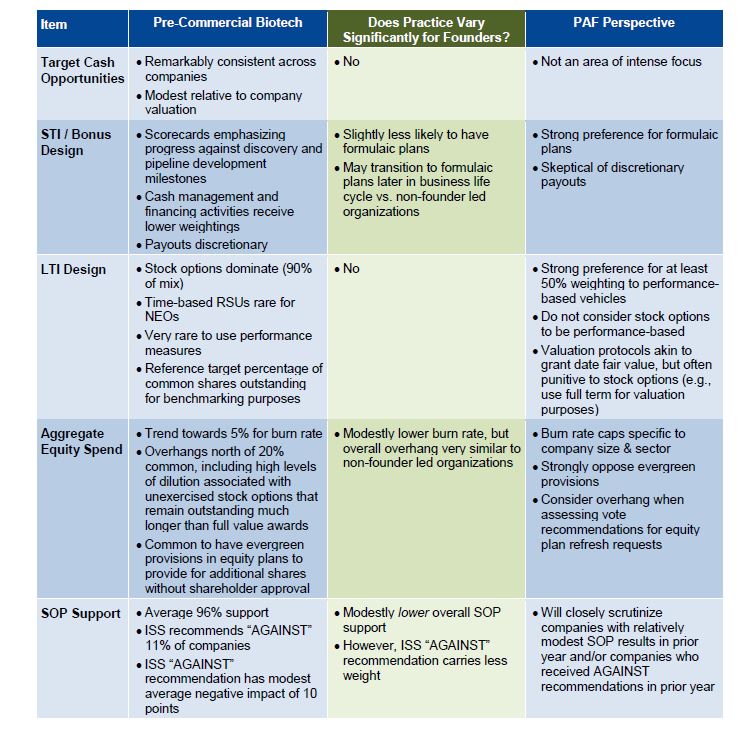 Developing a Roster of Pre-Commercial Biotech Benchmark Companies
In order to investigate CEO pay practices, we isolated publicly-traded biotech sector companies that:
• Were NYSE or Nasdaq listed;
• Were pre-commercial;
• Had annual meetings that included a SOP vote in the 12 month period ending June 1, 2020; and
• Had no CEO turnover in this period.
Ultimately, we identified 18 companies (listed in the Appendix) with median key statistics including:

In the remainder of this report, we provide further detail relating to general pay practices, bonus/short-term incentive and long-term incentive design for CEOs, aggregate equity usage statistics and SOP support for the benchmark companies.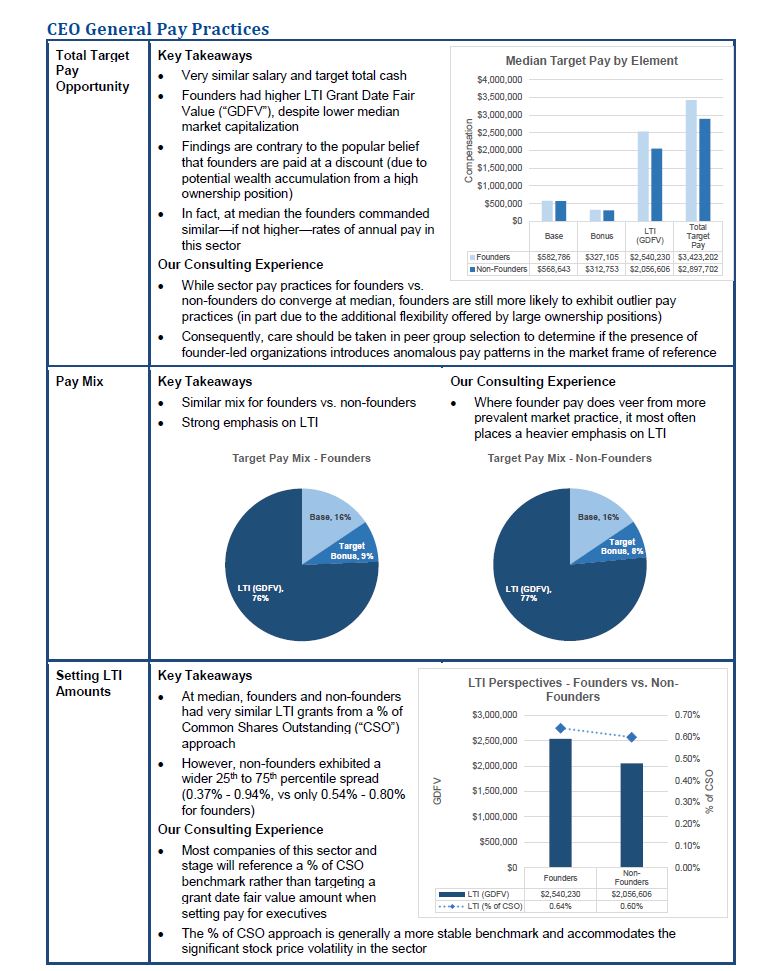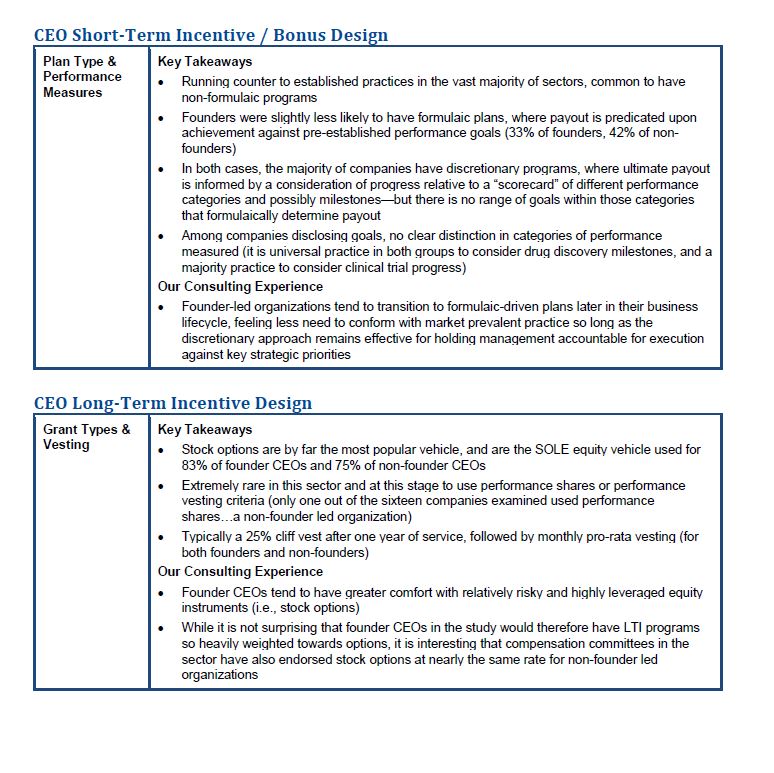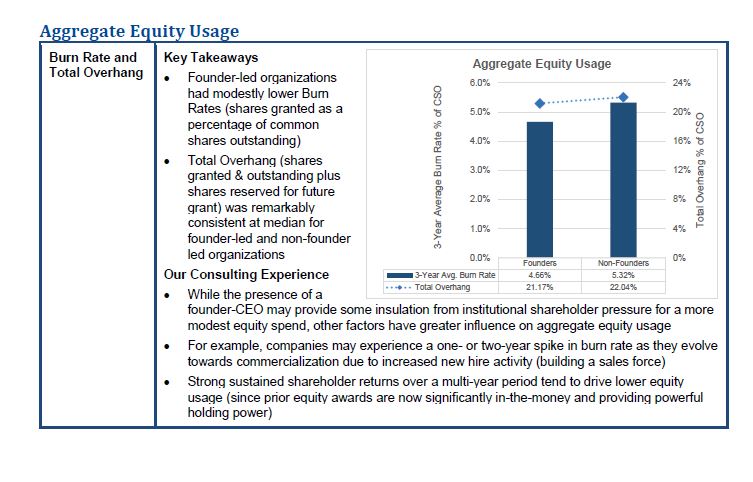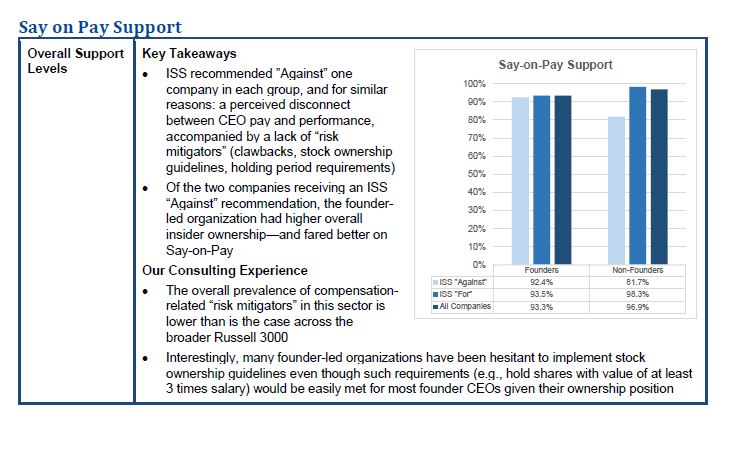 Appendix: Companies Included in Study
ADMA Biologics, Inc.
Adverum Biotechnologies, Inc.
Albireo Pharma, Inc.
AnaptysBio, Inc.
Ardelyx, Inc.
Cellular Biomedicine Group, Inc.
CEL-SCI Corporation Concert Pharmaceuticals, Inc.
Corbus Pharmaceuticals Holdings, Inc.
Denali Therapeutics Inc.
Dicerna Pharmaceuticals, Inc.
Editas Medicine, Inc.
Fate Therapeutics, Inc.
GlycoMimetics, Inc.
Mirati Therapeutics, Inc.
Pfenex Inc.
Pieris Pharmaceuticals, Inc.
REGENXBIO Inc.
Compensation Benchmarking, Program Design